06: Living a Life on Fire with Nick Unsworth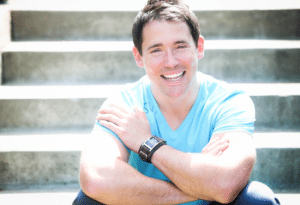 Nick Unsworth Founder of Life on Fire.com is an internationally known seasoned speaker & author with deep expertise on Business Coaching & Facebook marketing. He has spoken to audiences from 30 to 1,500 around the world. With his authentic charisma, unique ability to make learning fun, and ability to deliver result generating content, Nick is frequently one of the top rated speakers at major conferences both online and offline. Nick's ability to connect with the audience and content delivery style leaves the audience feeling empowered and ready to take action. His mission isn't just about teaching…it's about creating success stories.
Nick sold his first business by the age of 30 and knows what it takes be successful and live a life on fire.  Most importantly, Nick has a burning desire to help YOU be the success story you were put here on this earth to be.  It's his greatest obsession and you'll leave empowered knowing exactly how to get your business to 7 figures.
What you'll hear in this episode:
How Nick grew up as an ordinary guy with BIG dreams that ANYTHING is possible

How Nick fell into the trap of chasing quick money before realizing he needed a DEEPER purpose

How Nick found his clear purpose: to create more value and help other businesses be fruitful

A turning point for Nick came at 28 years old with a cross tattoo and the word "Believe."

How Nick found that he could create value for his clients by using Facebook ads

How Nick's path changed when he switched his mindset and let God work things out for him

He started

Life on Fire

and realized that his purpose was to help others find their purpose.

In a nutshell, Nick describes his work as "helping others unlock their passion and purpose."

How Nick was amazed at the difference in his business when he decided to "be IN the Word of God"

How Nick is motivated by his mother's reminder, "You can do ANYTHING you put your mind to."

Nick became determined that

Life on Fire

WILL become the #1 personal development company in the world!

Personal development: GOD makes the difference!

Validation points, and how they assure you of God's favor and vision

Nick's biggest strength is communication and connecting with people.

Nick's biggest weakness is trusting people, to a fault, so he gets taken advantage of and manipulated by others.

Another weakness: FOMO—Fear of Missing Out!  This leads to taking on TOO MUCH!

How do you share the gospel in your daily life? "If our lives are 'on fire,' then people will want that too. I use live events to share my faith and my testimony, and we've seen numerous people come to salvation!"

What is a recent book you've read? "I'll mention several that have made an impact:

Scaling Up

by Verne Harnish,

The Go-Giver

by Bob Burg, and

Circlemaker

by Mark Batterson."

What parting advice do you have for our listeners? "Completely reconnect to what matters to you and get to the root of what you want to do. What are your gifts? If money absolutely did NOT matter, what would you do every day?"
Resources: