05: One Extraordinary Marriage with Tony and Alisa DiLorenzo
As co-hosts of the #1 marriage podcast in iTunes, the ONE Extraordinary Marriage show, Tony & Alisa DiLorenzo speak to a worldwide audience about sex, love & commitment, and challenge every listener to make their relationship a priority. As a couple whose marriage has dealt with the issues of pornography, financial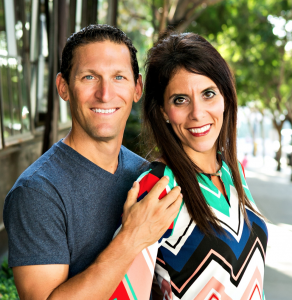 crisis and child loss, they speak from the heart to those issues that impact relationships with a mixture of tough love and candor. They work with couples around the world, equipping them with the tools and strategies they need to create one extraordinary marriage. Together they have ha co-authored 4 books including the Amazon best seller, 7 Days of Sex Challenge.
What you'll hear in this episode:
Tony and Alisa's story has lots of twists and turns.
How their marriage was on the brink of divorce more than once; the choice was divorce or GET RADICAL!
Why working on your marriage is NOT quick and easy!
They share inspirational verses that have great meaning for them.
Both verses speak of relying on God's strength and not our own.
They share the turning point in year 11 of their marriage when they took on the 60 Days of Sex challenge. Listen in to see how that turned out!
They were asked to speak at a church event about marriage, received overwhelming response and demand, and then started the One Extraordinary Podcast a few months later.
The catalyst that keeps them going is the responses and emails from listeners.
They now write books and programs and do coaching, in addition to the podcast, all of which has grown into a global ministry to marriages.
The best thing about what they do is the daily emails they receive about reconciled, restored, and transformed marriages.
The biggest challenge is understanding that you can't please everybody.
Alisa admits that they haven't always had the perfect marriage, enduring pornography addiction and the loss of a child.
Hear how Tony and Alisa describe the RADICAL transformation in the last 8 years of their marriage and how it happened.
Tony's strength is building relationships, but his weakness in that is over-talking and controlling every conversation.
Alisa's strength is the ability to see the 30,000 foot view, or the BIG picture of the future. Her weakness in that is getting caught up in the details and not allowing clients to find their own journey.
What is God stirring in you right now? "Bigger, MORE, territory-takers, kingdom-builders—we have SO MANY MORE lives and marriages to impact!"
How do you share the gospel in your daily lives? (Tony) "Wherever you are, whatever you do, you can share the gospel and 'take territory'." (Alisa) "Covering people in prayer and allowing the Holy Spirit to use me to let God's Word do what it needs to do."
What is a daily habit that helps your marriage? "Communication is a priority. We intentionally stay in touch many times each day by phone and by text."
What is a helpful resource you can share with our listeners? "A free resource, a list of questions to ask each other as spouses. Find it at www.oursixquestions.com.
What is a favorite book that you can recommend to our listeners? Intimacy Ignited by Joseph and Linda Dillow, and Peter and Lorraine Pintus.
What advice would you give to the "younger" you? (Alisa) "I would speak to me in my early 20's and say, "Marriage isn't what Hollywood portrays it to be. You need to get involved in the process of being married, sooner than 11 years into it. There are going to be challenges. God is going to be your Rock. The sooner you get involved in the process, the smoother things go."
(Tony) "I would speak to me at age 18-19: "Take the opportunity to accept Christ earlier. Avoid drugs and alcohol. Touch lives sooner rather than later."
What parting advice can you give to our listeners? "The #1 thing you can do for your marriage is to get intentional about it."
Resources:
www.oneextraordinarymarriage.com (There are over 300 shows available, along with some free resources, and other books and programs.)
Intimacy Ignited: Conversations Couple to Couple: Fire Up Your Sex Life with the Song of Solomon by Dillow and Pintus
7 Days of Sex Challenge: How to Rock Your Sex Life and Your Marriage by Tony and Alisa DiLorenzo
Subscribe To Our Newsletter
Join our mailing list to download a free a chapter of our new book "D.I.Y. Remodel Your Life" and updates of our podcast show.