04: International Community Development with Andy Mason
Andy Mason is the director of Heaven in Business at Bethel Church. Before coming to Redding in 2008, Andy worked for the leading New Zealand Agricultural Bank and a national consultancy firm. His primary role was in helping clients define what success was to them, then partnering with them in developing strategic plans towards realizing that success. Andy invested his vacation time in international community development, having helped establish a microfinance project and orphan program and developed leaders in eastern Uganda. Andy lives in Redding with his wife, Janine, and their four children. For more on Andy, see HeaveninBusiness.com and AndyandJanine.com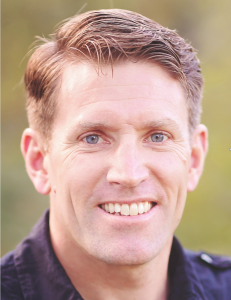 What you'll hear in this episode:
Andy grew up in New Zealand in a family that loved God.
At the core of every endeavor are the questions, "Who am I and what has God made me to be? What does that look like and where am I headed?"
Andy currently works with people who love business and love God in Heaven in Business.
The idea that business and religion have to be separate can be traced back to the Garden of Eden.
Andy finds personal inspiration in the story of Moses in Exodus 33, where the focus for Moses was on peace and rest.
In today's busy world, peace and rest are hard to find. Andy turns to Ps. [46:10]!
The biggest challenge for Andy is to let everything he does come out of the overflow from his relationship with God, anchored in unwavering rest and confidence.
Of the Seven Cultural Mountains, Andy's primary focus is on business and religion.
Andy's defining moment was in 2008 in leaving New Zealand and moving to CA. He shares how God providentially bolstered his faith to make the move.
Andy has felt the sting of failure through insecurity, in not knowing who he was. He knows the fear of people and of what they might say.
Andy says he spent too much time living someone else's expectation rather than trusting who God made him to be.
The gift from his failure has been in finding who God wants him to be!
Andy shares a favorite quote from Teddy Roosevelt in 1910: The Man in the Arena.
Let's Get Real Round Questions:

What is your biggest strength? Encouragement
What is the biggest weakness coming from your strength? "When I need encouragement from others, the very thing I try to give to others."
What is God stirring in you right now? "Increase. Stepping out to do much more."

Kung Fu Round Questions:

What does sharing the gospel look like for you? "Becoming a friend to a city and bringing favor to others through gracious speech and a pure heart.
What is a daily habit that contributes to your solid walk? "Reading God's Word, being still, listening, and worshiping, and having a connection with people."
What is a book you have read recently? The Speed of Trust by Stephen Covey
What is a resource you can recommend to our listeners? Dave Ramsey's podcast, EntreLeadership and iBethel.tv for worship music

What would you say to the "younger" you? "I would go back to age 16-18 when I heard God for the first time. It's when the faith of my parents became MY faith. I would say, 'You are on the perfect track to prepare you for what God has for you. God's in your future; just stay close to Him and you'll get there, too'."
What parting advice do you have for our listeners? "Success is not a destination, but the journey. Keep walking and don't look up."
Resources:
God with You at Work by Andy Mason
Kingdom Tools for Teachers by Janine Mason
Subscribe To Our Newsletter
Join our mailing list to download a free a chapter of our new book "D.I.Y. Remodel Your Life" and updates of our podcast show.